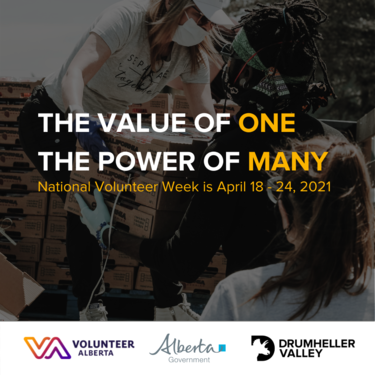 April 18 to 24, 2021 -The National Volunteer Week theme for 2021, The Value of One, The Power of Many, reflects on the awe-inspiring acts of kindness by millions of individuals AND the magic that happens when we work together towards a common purpose.  This past year, we have seen people supporting family, friends, neighbours, and strangers, people standing up to systemic racism, and people sharing insights on how to create a more just and equitable society.  We recognize the value of the caring and compassion that each one has shown another, and we recognize the power of people, organizations, and sectors working together. 
In previous years, Drumheller planned a volunteer appreciation dinner at the Badlands Community Facility. However, in light of recent provincial restrictions, the coordinators of Volunteer Appreciation Week in the Valley have pivoted the in-person experience to an outdoor, week-long celebratory installation at the Plaza. 
Thank a Volunteer
Postcards with a $5.00 voucher to be used at participating businesses are available at Town Hall to either mail or hand to the volunteer you'd like to thank.
Participating Businesses
R & J Flowers
Jungling Works
Black Mountain Roasters
Pet Valu
Natural Light Images/The Wicanook
The Faux Den
Dry Canyon Collectables
Dinosaur Valley Massage & Wellness/Sage Valley
SJ Fashions
Au Croque Monsieur
The Spirit Within
Café Ole'
H&R Block
Check out our Business Directory for locations.
April 18 - 24 at the Plaza (Centre Street)
Visit the plaza to celebrate volunteers! 
Students from Greentree Elementary have murals telling the story of what volunteering means to them 
A map of the Valley where you can place a pin or sticker to signify that "volunteering happened here"
A bulletin board where you can write a note of appreciation to sung and unsung volunteers
Submit your name into the ballot box to win prizes!
Looking to Volunteer or Need Volunteers?
Volunteers expand their support network while being a part of important community events and activities. Develop social skills that you can take with you for life. Meeting different kinds of people can expose you to a wide range of social dynamics that can assist you in both personal and professional environments. This carries over to the fact that volunteering also teaches important life skills that promotes career development. 
Heather Carlson, the Community Development and Social Planning (CDSP) Coordinator for the Town of Drumheller is also the Volunteer Coordinator for the community. Through the Town's municipal website, volunteer positions can be posted on behalf of organizations in a centralized location. On the Career Opportunities page, there is a section for volunteers. Groups looking for volunteers can contact Heather to get started!
If you are looking to volunteer but not sure where to start, please submit your information to our General Volunteer posting and we will work with user groups to get you involved in our community. 
#VolunteersBringChange in many ways so what does the "The Value of One, The Power of Many" mean to you? Comment below!