Go back to news listing
Public Hearing - Notice of Appeal - Subdivision and Development Appeal Board
Posted on Jul. 20 2021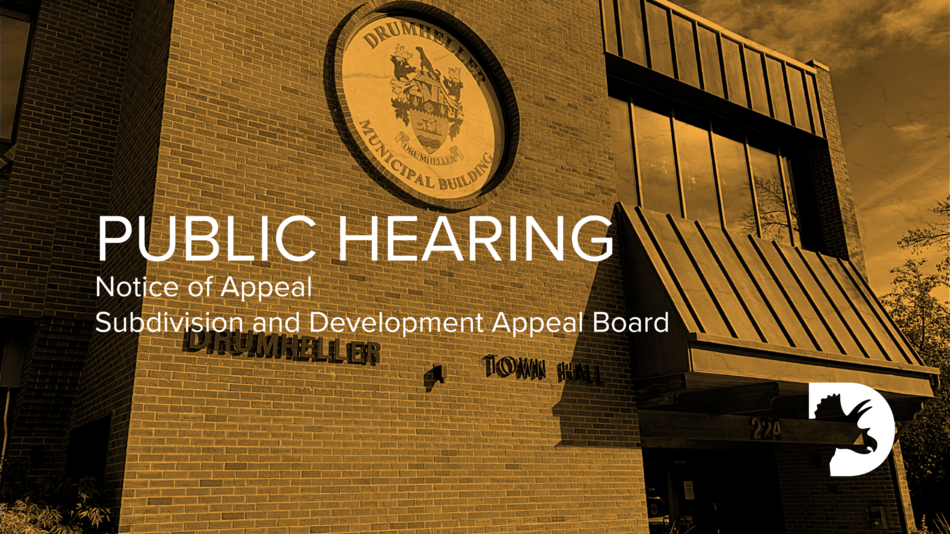 PURPOSE: A notice of appeal has been made to the Subdivision and Development Appeal Board against the notice of decision for Development Permit Application T00083-21D.
APPELLANT: Localis Planning & Local Government Services
PROPERTY: 315 – 3 Avenue East, Drumheller L: 1,2; B: 15; P: 2089BN
GROUNDS FOR APPEAL:
1. The Land Use Bylaw has been misinterpreted and Conditions 2, 3, 10, 11, 12 and 13 are not authorized by Section 5.14 Land Use Bylaw 16.20.
Notice of Decision Conditions:
2. Must conform to the Town of Drumheller Community Standards Bylaw 06.19
3. Annual Business License is required.
10. The site and buildings, structures and improvements shall be maintained in a clean, neat, tidy and attractive condition and free from all rubbish and debris.
11. Development to conform to any/all Federal, Provincial and/or Municipal regulations and/or guidelines that may apply.
12. Prior to commencement of occupancy and business activities, confirmation must be provided to the Development Officer from the Local Fire Authority and Health Authority that the building is occupiable for such purposes
13. The development shall be revocable at any time, if the use is or has become detrimental to the amenities of the neighbourhood.
2. Condition "e", invalidating the permit should an appeal be made against the decision, is not authorized by the Municipal Government Act and is contrary to the principles of due process, especially as this permit is for a permitted use.
Notice of Decision Condition:
e. That this permit shall be invalid should an appeal be made against the decision. Should the Development Appeal Board approve this issue of this permit, this permit shall be valid from the date of decision and in accordance with the conditions of the Development Appeal Board.
Documents referenced in this notice can be viewed on the Town of Drumheller website;
Any person affected by this appeal and wishing to address the Subdivision and Development Appeal Board relating to this matter shall contact Denise Lines at dlines@drumheller.ca or 403-823-1339 to make arrangements to attend the remote virtual Public Hearing on Thursday, July 29, 2021 beginning at 2:00pm. A link to a live stream of the Public Hearing will be available on the Town of Drumheller website at 
www.drumheller.ca.
Persons wishing to submit a written brief concerning these matters in advance of the Public Hearing may do so by mail or dropping off submissions to: Subdivision and Development Appeal Board, Town of Drumheller 224 Centre Street, Drumheller, Alberta T0J 0Y4 or email at dlines@drumheller.ca. Written submissions will be received up to Tuesday, July 27, 2021, at 4:00 p.m.