Go back to news listing
Town Council Approves 2022 Fee Schedule Adjustments with Signifigant Changes to Recreation
Posted on Dec. 15 2021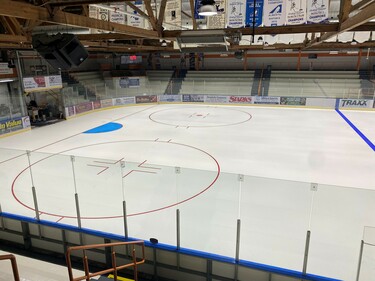 At Monday's Regular Council Meeting, after a thorough discussion and some amendments, Council approved the 2022 Fee Schedule as presented by Administration with several recommendations to take effect in the new year.
The most noteworthy changes to the Fee Schedule are for the recreation memberships and drop-in rates at the Badlands Community Facility, Drumheller Aquaplex and the Drumheller Memorial Arena.
"The recreation teams have been unable to offer drop-in programs at the Arena to the community due to the implementation of the Restrictions Exemption Program. We did not have the resources at the time to have a dedicated staff to perform vaccination checks for drop-in skate times," shares Darren Goldthorpe, Manager of Recreation, Arts and Culture. "In order to offset the costs associated with the additional resources, a drop-in admission per skater or by family will be in effect. Those with multi-facility memberships will have added-value as these rates will be included in that membership." It was also noted in the discussion that this additional revenue source is aligned with the cost-recovery priority set by last term's Council.
Council approved a new membership model last week, making all memberships a month-to-month auto-renewal, effectively removing the three-month, six-month and annual membership as options to users. However, after some public feedback of the proposed rate-matrix, new fees have been adopted in the 2022 Fee Schedule at a lesser cost than previously indicated. "Corporate Memberships remain available to users whose local place of employment who meet the eligibility criteria of the program," continued Goldthorpe. "This offers a 20% discount for multi-facility memberships to their employees."
Membership Fees – Per Month

Membership Type

Single Facility

(Aquaplex or Badlands Community Facility)

Multi Facility

(Aquaplex, Memorial Arena and

Badlands Community Facility)

5 and under

FREE

FREE

Youth (ages 6-17 yrs.)

$ 28.00

$ 37.00

Adult (ages 18-59 yrs.)

$ 43.00

$ 55.00

Senior (ages 60+)

$ 28.00

$ 37.00

Family

$ 80.00

$ 100.00

Activation Fee*

*applicable when membership is first activated or re-activated after being stopped

$ 20.00

$ 20.00
Subsidies to qualifying individuals or families for recreation memberships and programs is available through the Recreation Fee Assistance Program through the Town's Community Development and Social Planning department. Those who wish to explore this program, can contact cdsp@drumheller.ca, or stop in at the BCF or Aquaplex for more information.
"We want to acknowledge the long-standing members at our facilities," begins Councillor Tony Lacher. "One of the amendments Council wanted is to waive the $20.00 activation fee for active members." An active member is defined by an active membership as of December 31, 2021.
At the request of Councillor Tom Zariski at last week's discussion regarding the approved membership model, youth admissions to the Badlands Community Facility and Aquaplex are reduced to $5.00 for a drop-in admission, matching what is now offered at the Memorial Arena.
Councillor Zariski said, "I think reducing the rate to $5.00 is a way to make our recreation facilities more accessible to youth."
In the prior year, due to the impacts of the pandemic, Administration recommended no changes to the 2021 service fees. This fall, Administration performed a review and analysis of service fee changes over the last five (5) years and concluded that, while some fees have remained unchanged, others have increased at an annual growth rate varying from 1% to 1.6%. Administration recommended a 3% increase to some fees, though other fees are either being kept at current levels, or the recommended increase is higher than 3%.  
Safety Codes Permits, gas, electrical and plumbing will not see any changes in this current fee schedule. A quality management plan is in progress to generate a Request for Proposal (RFP) for safety code services, and Administration will review and recommend changes to the fees once that is established.
The Town of Drumheller Fee Schedule includes fees for the airport, cemetery, development permits, rental spaces at the recreation facilities and other items that can be reviewed here.