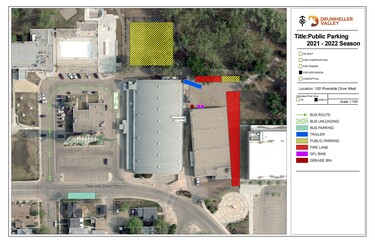 The temporary locker room trailer for the Arena is on arrival, and it will impact parking behind the Memorial Arena. 
The Town of Drumheller has been experiencing a high volume of complaints regarding user groups and visitors parking in both the "No Parking" zones and the "No Parking Fire Lane" areas. It is important that users obey signage, as it could impact emergency services and the overall safety of Arena and Curling Rink users. 
Visitors to both the Arena and Curling Rink should be advised that parking enforcement in the area will be ongoing to ensure vehicles are not parked in no-parking stalls, or blocking fire lane access.
Enforcement measures include:
The temporary locker room trailer will utilize a few parking stalls, as well as remove a few to ensure there is adequate fire lane access. To help offset the loss of parking stalls, the Town of Drumheller will be opening up the old tennis courts for parking use for the 2021/2022 season and encourages users and visitors to park vehicles in this area.