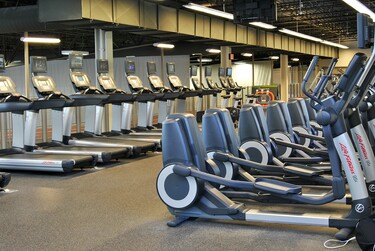 As the province enters Stage 2 of the Open for Summer Plan, Drumheller's Recreation Department is very excited and is working hard to reopen our indoor fitness facilities. This includes the Badlands Community Facility (BCF) and the indoor pool at the Drumheller Aquaplex.
Last week, in anticipation of the announcement of Stage 2, our team began recalling staff to work. Challenges in schedules have led to some delays, as well as some uncertainty of the operational hours in the early weeks of reopening. Hours of operation will be released as early as next week*, however will be subject to change as more resources become available.
*The BCF will open on June 21, 2021 from 6:00am - 9:00pm, Monday - Friday (Updated June, 14, 2021)
On May 7, the Recreation Department announced they were cancelling all memberships at both the BCF and Aquaplex. This cancellation stands as a credit on the account, allowing users to allocate funds toward recreation items beyond a membership, at their discretion.
The projected reopening date for the BCF and indoor pool at the Aquaplex is June 21, 2021.
What can you expect when returning to our facilities?
COVID-19 safety protocols will still be in place.
Masks must be worn while in the facilities, however is not required during activity.
3m distancing will be required during indoor physical activity.
Sanitizing of equipment after use is compulsory.
Reservations are required in order to comply with AHS Guidelines for capacity. Online reservations will be available as soon as next week.
Drop-ins are unavailable at this time.
For the safety of our staff and membership, please do not come to our facilities if you are not feeling well.
For more information, please contact:
Drumheller Aquaplex (403-823-1322)
Badlands Community Facility (403-823-1370) for more details
Online Portal: https://www.drumheller.ca/play/recreation-programs
Supporting Documentation
Enhanced Public Health Measures