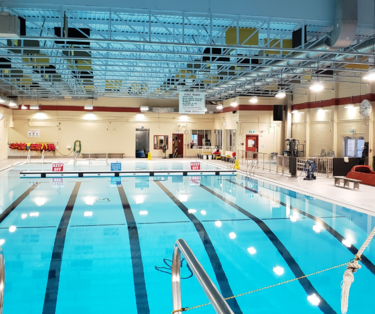 With new COVID-19 restrictions, the Aquaplex will be seeing some changes starting Monday, September 20, 2021.
Based on survey results and restrictions from Alberta Health Services, Lane Swim will continue to utilize the reservation system.
Aquaplex staff will take requests for times from Friday-Friday one calendar week ahead of time.
Requests can be made in person, over the phone at 403-823-1322, by email at aquaplex

@drumheller.ca,

or message the Aquaplex's Facebook Page.
Once the request window closes, Aquaplex staff will assign swimmers a time slot and will contact swimmers at least 5 days in advance of their reservation to let them know when their reservation time is.
In order to try to accommodate as many lane swimmers as possible, double reservation blocks will no longer be permitted.
Swimmers will not be permitted to share lanes unless they are from the same household or one of the 2 close contacts for those living alone. In an effort to get as many people in as possible, if you are able to share a lane you will be put in a lane together.
There will be no instructor-led Aquatic Fitness classes come Monday, September 20.
The pool will be available for solo activities with use of fitness equipment during the same times that classes were to occur. All individuals must be 3m distanced from one another.
Maximum 1/3 fire code capacities for the facility will be in effect during these times.
Please stay within your household or 2 close contacts for those living alone; respects others space, 3m distancing.
Swimming Lessons will continue as scheduled.
If you have any questions, please reach out to the Aquaplex staff by coming 
in person, calling 403-823-1322, emailing aquaplex
@drumheller.ca,
or messaging the Aquaplex's Facebook Page.