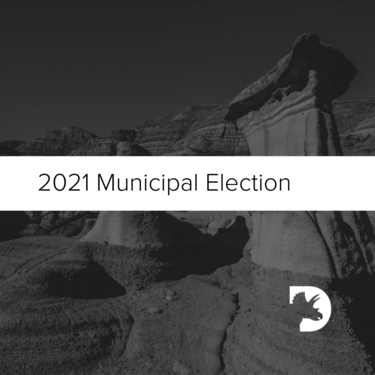 Acceptance of Nomination Papers for the 2021 Municipal Elections closed September 20, 2021 at 12:00pm. Town Hall received several Nomination Papers prior to the noon-hour closing, bringing the total of two Mayoral candidates to three, and three candidates for council to eleven from 8:00am today. Current nominees have 24-hours from the close of Nominations to rescind their nomination package.
Both school board trustees for Golden Hills School Division and for Christ the Redeemer Catholic Education are acclaimed, as there was only a single nomination for each available position.
On October 18, 2021, from 10:00am to 8:00pm, residents will vote to elect one Mayor and six Councillors to a four-year term. In the Drumheller Valley, Council members are elected at-large, which means the Mayor and Councillors represent the entire population rather than a geographical ward. 
Nominations for Office of Mayor (One Position):
ALMOND, Edmond
CHUNG, Mark Jeffrey
COLBERG, Heather (incumbent)
Nominations for Councillor (Six Positions):
BERGOS, Grant Alexander
EWING, Curt
HANSEN-ZACHARUK, Lisa (incumbent)
KOLAFA, Patrick
LACHER, Anthony Paul (incumbent)
MIGLECZ, Anthony Robert
PRICE, Stephanie
SCOTT, Jade
SEREDA, Crystal
VEENHUIS, Ralph
ZARISKI, Thomas Victor (incumbent)
| | |
| --- | --- |
| Dates for Advance Polls: | Time: |
| Sunday, October 10, 2021 | 1:00pm-5:00pm |
| Tuesday, October 12, 2021 | 3:00pm-8:00pm |
| Thursday, October 14, 2021 | 12:00pm-8:00pm |
| Saturday, October 16, 2021 | 10:00am-6:00pm |
Both Advance Polls and Election Day will be held at the Badlands Community Facility (80 Veterans Way, Drumheller AB).
The Drumheller & District Chamber of Commerce will host a 'Candidates Forum' on Thursday, October 7. It is to be determined whether this event will be held virtually or in person. The Chamber is offering an online submission form for residents to submit their questions ahead of time that could be prompted at the 'Candidates Forum' event. Residents can pose the questions to all candidates, or individually or as a group. This submission form is available on their website.