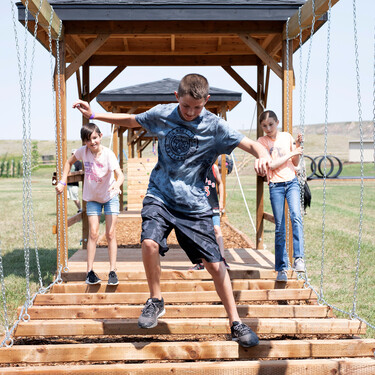 There is a lot to celebrate about the Drumheller Valley, but Barney's Barnyard, Boomtown and Boneyard – otherwise known as Barney's Adventure Park - knows how to do it best!  
With over 30 activities to keep the whole family entertained for the day, Barney's Adventure Park is over 15 acres of unique Badlands-style activities. Located just 5 minutes West of the Royal Tyrrell Museum on North Dinosaur Trail in the Drumheller Valley, the Barney's Adventure Park and Canalta team want to provide a new attraction in the community.  
After a few years in the making, the planning for a fun farm within the Drumheller Valley was finally brought to fruition. Along with brainstorming ideas, the family history of the first ferry crossing in the area, reading stories of hard work and grit during the coal rush and (of course) the discoveries of famous dinosaur bones in the area came forward, and the team decided on celebrating all that the Drumheller Valley has to offer!  
Barney's Barnyard 
Barney's Barnyard is a celebration of the agricultural history rooted in the Drumheller Valley. While you are meeting some of the resident horses, cows and chickens, you can also visit the Corn Maze, take a stroll through the Giant Pumpkin Patch and Sunflower Patch, place your bets on Ma Gilbert's Mini Pig Races and Pedal Cart Races and even stop by the Pumpkin Cannon (we will let you visualize that one on your own).  
Barney's Boomtown 
From the 11 Bridges of Wayne (11 Bridge to Wayne Rope Course) all the way to the Bleriot Ferry (Bleriot Ferry Flyers Zipline), Barney's Boomtown explores and uncovers the gritty and rich coal mining history of the Drumheller Valley. You can have little snippets of the community in your time at Barney's Boomtown! 
Barney's Boneyard 
Last but not least, Barney's Boneyard wants to welcome each and every guest to the Dinosaur Capital of the World – with an appropriate grand gesture. In addition to a Dino Dig on site, you can learn about amazing dinosaur discoveries that were made at Barney's Adventure Park DURING construction!  
Your day pass and season passes give you access to everything in the park, with the exception of the Pumpkin Cannon and Morse Gemstone Mine. Both of these activities require a small additional fee to use when in operation.  
Barney's Adventure Park opened their (barn) doors on July 1, 2021, and they can't wait to see you there!  
The team is often asked if Barney's Adventure Park is just for kids... And the answer is no. Aren't we all just kids, anyway?  
Hours of Operation
Barney's Barnyard, Boomtown and Boneyard is open daily from 10:00am – 7:00pm!  
Follow Barney's Adventure Park!
Facebook: Barneysdrumheller 
Instagram: Barneysdrumheller 
Tik Tok: Barneysdrumheller 
Twitter: BarneysDrum