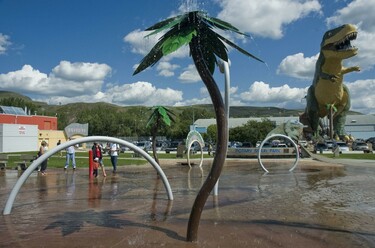 We are excited to share that our Public Works and our Recreation Department have confirmed that the Rotary Spray Park will be available for use over the weekend, regardless of the cooler weather in the upcoming forecast. Users are expected to maintain a distance of 2m from other households or individuals at all times when using this facility and follow the COVID-19 guidelines provided by AHS.
On April 26th, the Town of Drumheller announced a plan to open the Rotary Fountain for the May long weekend. The initial contractor who was awarded the project unfortunately backed out due to budget and timeline constraints, causing delays in the construction phase.
The Rotary Fountain will open May 28th, 2021, pending AHS approval.
We are grateful for the contractors that stepped in to finish up the project, and they are working hard to ensure that the facility is safe for public use. Currently, the crews are addressing the pipework, with concrete replacement and pour to follow. Once cured, Town Staff will fill the fountain, treat and balance the water and send a sample to AHS in Calgary for approval in order to open as a wading pool.
The Rotary Fountain not opening this weekend is disappointing news, though we are looking forward to getting the Rotary Fountain back up and running for everyone to enjoy!
We know how important this is for our community, and we thank everyone for their understanding and continued patience with the Rotary Fountain.