Go back to news listing
Town Hall Seeks Resident Feedback for 2022 Property Tax-Supported Operational Budget
Posted on Nov. 2 2021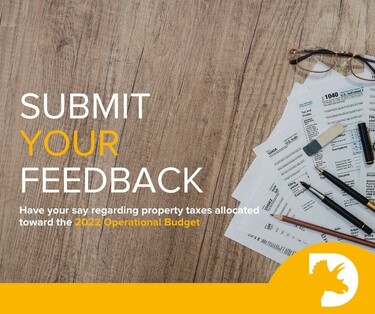 Once again, the Town of Drumheller Council & Administration is seeking citizen budget feedback for the property tax-supported operational budget for the Drumheller Valley.
"We are looking forward to launching this product again to the community," begins CAO Darryl Drohomerski. "We had great feedback earlier this year for the 2021 public consultation. This is a very user-friendly tool with regard to capturing feedback and offers a variety of different opportunities for residents to understand how property taxes are allocated. The Town of Drumheller works hard to ensure residents across the Valley feel they are getting the best value for their property tax dollars, which ultimately contributes to the quality of life for our residents."
Residents can allocate desired amounts of funding to certain service categories; General Government, Public Works & Transportation Services, Garbage Collection, Family Community Support Services, Community Services & Economic Development, Recreation and Cultural Services and Protective Services. Users can also make trade-offs by selecting the service categories that are most important to them, while balancing off the other service categories to ensure the proposed budget is balanced and obtainable. 
"This year, we've added a couple other options for residents to participate in the consultation process," continues Drohomerski. "We've included a webinar to substitute for in-person sessions which will be recorded and available to stream, as well as a toll-free number for users who may not feel comfortable with the online component."
The webinar will be hosted by the Town of Drumheller in partnership with Ethelo on Tuesday, November 16 at 10:00am. The stream will be available on the Town of Drumheller's YouTube. The toll-free number will have a dedicated representative from Ethelo and will be available to Drumheller residents until November 21, 2021, when the public engagement concludes.
Link to webinar: https://us02web.zoom.us/j/84084363329
Toll-free phone number: 1-825-305-2225
Link to the Ethelo online tool: https://drumhellervalley2022.ethelo.net/
An operations budget is approved yearly by Council that includes revenues, recoveries, and expenditures relating to ongoing operational items in the organization. The operations budget is one of two types of budgeting through the town; operations and capital. Capital Budget is the Town's plan to purchase, build, maintain, repair and potentially replace assets among the community. For example, snow removal is included in the annual operational budget; a new sander would be considered in the capital budget.