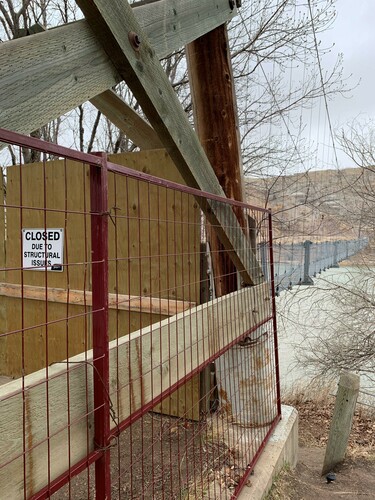 The Starmine Suspension bridge in Rosedale is not expected to reopen for the 2021 tourism season due to safety concerns surrounding the structural supports. A bridge inspection was carried out in March 2020, which identified a significant amount of wood rot on the north shore bridge support deeming it unsafe.
The land on the north shore of the Starmine Suspension Bridge is located on was privately owned, which previously required land use agreements with the landowners and other respective parties in order to perform inspections and maintenance work. The Town of Drumheller has been working with Alberta Transportation and the property owners and have successfully concluded land transfer negotiations for this parcel of land. This will allow the Town of Drumheller and Alberta Transportation to perform regular maintenance on the bridge, as required.
Before the land transfer is complete, Alberta Lands must complete an indigenous consultation. This has not happened yet, and until it does, the Town of Drumheller and Alberta Transportation cannot access the area to perform the work.
Meanwhile, conceptual designs for the repair have been provided by engineers, and the scope of work is underway in preparation for when Alberta Lands completes the consultation.
Updates regarding the Starmine Suspension Bridge in Rosedale will be posted on our website.