Go back to news listing
Drumheller's Downtown Area Revitalization Plan is Seeking Resident Feedback
Posted on Feb. 17 2021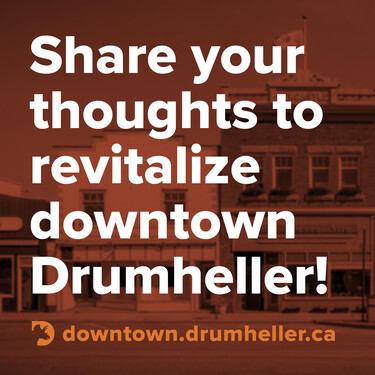 The Drumheller Downtown Area Revitalization Plan (DARP) has activated its second phase of public engagement to capture resident feedback regarding Drumheller's upcoming downtown redevelopment.
This plan will provide a 15-year vision to catalyze the revitalization of downtown Drumheller. The project aims to re-establish the downtown as the cultural and economic hub of the Valley, a destination for locals and visitors, and a vibrant community. This project went to tender in July 2019 and was awarded to O2 Planning, a multidisciplinary firm consisting of landscape architects, planners, urban designers and environmental scientists out of Calgary.
"The first phase of engagement  launched over the summer months in 2020," explains CAO Darryl Drohomerski. "The second phase includes a comprehensive survey of possible upgrades, activities, and incentives that could occur downtown through the DARP. This is a very exciting project for our community, and we encourage everyone to participate. Feedback for this project is essential to assist in the development and refinement of this plan."
Upon entering the survey, users are invited to share how important the various upgrades, activities, and incentives are and how they should be prioritized. For example, some amenities and infrastructure upgrades available for feedback are an urban tree canopy, playable installations, public washrooms, permanent fairground ride, and relocating the tourism information centre to downtown.
"Invigorating our downtown has been a top priority for this Council," shares Mayor Colberg, Mayor of the Town of Drumheller. "We've hit huge milestones to support our downtown, including the new Municipal Development Plan, and Land Use Bylaw, which complements this project's initiatives. Through this Plan, Drumheller has a tremendous opportunity to re-establish downtown's role as the civic and business centre of the Valley."
The survey is available on downtown.drumheller.ca until March 5, 2021.