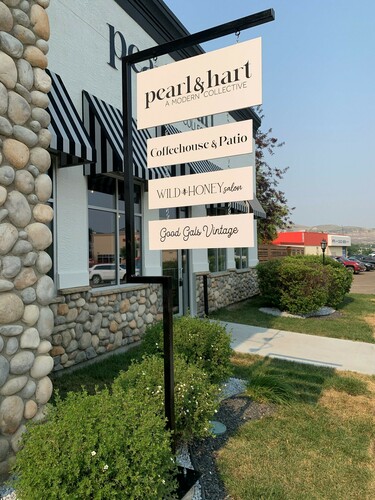 Pearl & Hart is a modern collective located in the Drumheller Valley that consists of a women's fashion boutique, a vintage clothing store, coffee and wellness bar, hair salon, greenhouse and many other exciting offerings. We are aimed at creating a community hang out and a must stop for tourists. A place for everyone to feel confident embracing their personal style, to feel proud of who they are and to feel encouraged to live their desired way of life!
"Our goal is to create a memorable experience for every individual who walks through our doors," shares Aly Price, owner of Pearl & Hart. "We aim to offer the convenience and excitement of a variety of services and products that would normally require stopping at several stores or driving to a bigger town/city for accessibility."
The 2,700 square foot facility will house not only Pearl & Heart, but also Wild Honey Hair Salon, operated by Kayley Goodine, a long-standing name in this community. There is also the 'Coffee Bar and Wellness', a holistic nutritionist who can put a healthy twist on traditional café items. Owner of Good Gals Vintage, Laura Gaucher, hosts beautiful western-leaning vintage home wares and clothing.  
"We chose Drumheller because we all have a desire to support local, and have a cool spot to hang out," Price continues. "We want to be the place you come to pick up a gift for your friend's new baby, and a place to meet for lunch or a coffee date. When you need new clothing, we want to provide the boutique experience of assisting in styling and finding a unique piece of clothing for you. My team and I believe in the Valley, and we are so excited to help the community grow and flourish!"
Hours of Operation
Every day, 10:00am - 8:00pm
Follow Pearl & Hart! 
Website: www.pearlandhart.comFacebook: @pearlandhart
Instagram: @pearlandhart
Email: pearlandhart@gmail.com
Phone: 403-856-0825