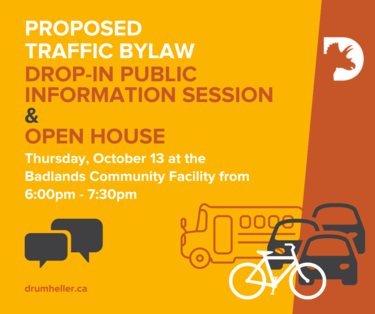 On July 18, 2022, the Proposed Traffic Bylaw 10.22 went for first reading before Council. This proposed bylaw would replace the existing Traffic Bylaw, which is nearly twenty years old.    
"As part of Council's strategic priorities, modernizing the Town's Traffic Bylaw was a priority for both our elected officials and the Emergency and Protective Services Department," explains Greg Peters, Director of Emergency and Protective Services for the Town of Drumheller. "We are now including amendments that would pertain to electric bicycles and scooters, school bus parking, RV parking and other core traffic-related components."  
The Emergency and Protective Services Department is hosting a Public Information Session and Open House regarding the Proposed Traffic Bylaw on Thursday, October 13 from 6:00pm – 7:30pm at the Badlands Community Facility.  
"We are offering a casual, drop-in Open House for residents to just come in and ask questions about the proposed bylaw, share traffic-related issues in their neighbourhoods and essentially have two-way dialogue with our entire department," continues Peters. "We are seeking feedback that we will take into consideration for the next iteration of the bylaw."  
Second reading of the Proposed Traffic Bylaw, where Council can provide their feedback, is anticipated in the mid to late Fall.