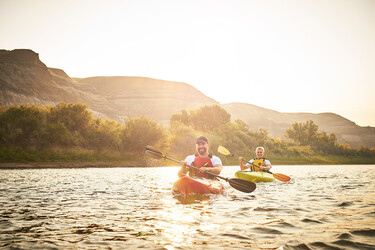 1. ADVENTURE IN YOUR BACKYARD
Drumheller Valley has an abundance of outdoor recreation possibilities. Whether you are looking for challenging hikes through the coulees, a gentle paddle down the Red Deer River or perhaps a dino dig at Midland Provincial Park, there is something for everyone. Drumheller has four off leash dog parks for our K-9 lovers, three of which are set deep into the badlands.
2. GORGEOUS SCENERY
Drumheller boasts strikingly beautiful Canadian Badlands scenery throughout the Valley. This scenery has been a charismatic character and backdrop for many films and events, such as the Canadian International Rover Convention, Ghostbusters Afterlife, The Revenant, Unforgiven, Superman (1978), Shanghai Noon, Lost in Space, Fortunate Son and many other productions. It's also a great place to fly your drone and capture the valley from a birds eye view!
Besides film, Drumheller is a very popular setting for Instagrammers and professional photographers. Check out a few popular Drumheller hashtags, #Drumheller #DrumhellerValley, #DrumhellerWedding, #TravelDrumheller  
3. GREAT PLACE TO RAISE A FAMILY
Drumheller hosts three schools, two public and one Catholic. Our public high school hosts a renowned international program, which brings culture from all over the world to our youth! Campus Alberta Central (CAC) is a joint venture between Olds College and Red Deer College that provides post-secondary educational opportunities to our community. We are also home to Badlands College, which offers other post secondary options.
From baseball to taekwondo, from dance to cooking lessons, our community has tonnes of recreation opportunities for kids! We even have a large skateboard park, outdoor pool, spray park and plenty of trails to keep them busy.
Percent of Families With Kids: 32%
Population: 7,982 (2016)
Estimated Unemployment Rate: 8.8%
Average household income: $72,768
4. BRING BUSINESS WITH YOU
If you have ever dreamt of owning your own business, Drumheller is a great option for you. As Alberta's 3rd largest tourist destination, Drumheller Valley offers you huge opportunities with a global audience ready and waiting.
5. SUPER SPEEDY INTERNET
Drumheller has some of the fastest internet speeds in the Province of Alberta all thanks to the fibre optic hubs. This makes working from home and even running a business from home super speedy and super easy.
6. DINOSAURS, DUH.
It would not be Drumheller without dinosaurs.
It all started with Joseph Tyrrell coming hunting for coal and finding a fossil of a head of what we now call Albertosaurus. The Drumheller Valley is the Dinosaur Capital of the World and is home to the world-renowned Royal Tyrrell Museum of Paleontology. This museum as well as being an amazing visitor attraction is home to ground-breaking research in the world of geology and paleontology. 
7. HEALTHCARE  
Drumheller's healthcare is second to none in the province and caters to the health and wellness needs of all age groups. Drumheller's hospital has over 75 services. 
8. COMMUNITY SPIRIT
Residents of Drumheller certainly do not lack community spirit! In times of need, we rally together. Whether we're sandbagging for our neighbours, fundraising for a local need, volunteering, or throwing an amazing Canada Day celebration, Drumheller is very proud of its sense of community.
9. WORLD CLASS FACILITIES
Drumheller has no shortage of world-class facilities – whether they were erected in the early 1900's, 2000's or continually seeing expansions, set for miners, craft beer enthusiasts, swimmers, gym-goers or to satiate the curious mind, our facilities offer it all! 
10. AFFORDABLE HOMES IN GREAT NEIGHBOURHOODS, GET INTO THE REAL ESTATE MARKET
Drumheller's real estate market has a home for every budget.  From starter homes to high-end luxury homes, Drumheller's real estate market has a wide variety to suit any need or lifestyle.  Also, every home has access to some of the most beautiful scenery in Canada. 
11. INCENTIVE PROGRAMS
Drumheller is no doubt aggressive when it comes to attracting new residential and commercial developments.  With some of the best incentive programs in Canada, Drumheller can offer developers and those wishing to start a business or make an investment ease of access through a single point of contact with development and investment specialists. 
12. DISCOVERY
Besides an endless number of dinosaurs, there is so much to discover in the Drumheller Valley. Adventure starts in your backyard complemented by the rolling scenery of the coulees. You can discover your first home; discover our fun coffee shops, our very own brewery, your home office, even your own business, and tap into the limitless opportunity in the Badlands. There is so much to discover, and we can't wait to see what you find.