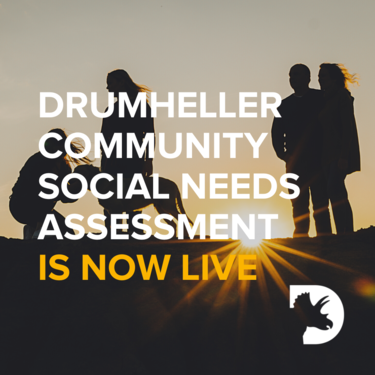 The Community Development and Social Planning (CDSP) Department of the Town of Drumheller launched the Community Social Needs Assessment (CSNA) on November 22, 2022.  
Social needs are issues or problems that influence or impact a number of people. These can also be described as those things that negatively affect our quality of life.  
"No one has more expertise in the reality of social needs in our community than our residents and service providers," explains April Harrison, Manager of Community Development and Social Planning. "The assessment provides information that will be used to develop goals that address priorities over the next five years." 
The last CSNA was completed in 2017, and engagement resulted in introducing a subsidised community counselling program, improving the Recreation Fee Assistance Program, improving supports for newcomers to the Drumheller Valley, providing preventative out-of-school youth programming, supporting neighbourhoods to connect with Block Party and Block Buddy programs, grand writing and advocacy on issues such as housing and homelessness, working poverty, victim services and mental health.  
Data will be collected in a number of ways, including an online survey for all residents aged 11 and older. Residents are encouraged to register for one of the community conversation workshops, where participants will identify the social needs they see in the Drumheller Valley, think about ways they could be addressed and discuss what improvement in these areas could look like. These workshops are as follows:  
Tuesday, November 29 from 6:30pm – 8:00pm at Nacmine Community Hall

 

Friday, December 2 from 10:00am – 11:30am at Sunshine Lodge (for those aged 55+)

 

Monday, December 12 from 6:30pm – 8:00pm at the Badlands Community Facility

 
Residents needing assistance to complete the survey can contact the CDSP Department by emailing cdsp@drumheller.ca or calling 403-823-1315 to set up an appointment, and paper copies are available at Town Hall. 
For more information about the CSNA and for a timeline of the project, please visit https://drumheller.citizenlab.co/en/projects/community-social-needs-assessment.