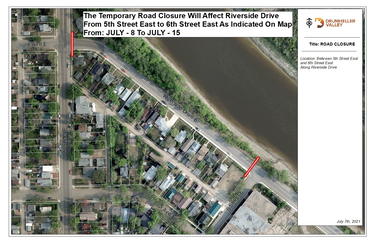 There will be a temporary road closure in effect on Riverside Drive East from 8:00am on July 9, 2021 until 6:00pm Thursday, July 15 due to a sinkhole that has formed in the area. 
It has been determined that the sinkhole has formed adjacent to a sanitary manhole at the 5th Street Lift Station under the sidewalk and roadway. Due to this, crews will be replacing the manhole and approximately 30 metres of sanitary sewer pipe on Riverside Drive East. Equipment has been placed in the area in preparation for work to begin on Friday, July 9, 2021. 
The Town of Drumheller has engaged Canada Post with regard to the community mailbox that will be affected due to the sidewalk and roadway removal. Emergency services have been notified of this temporary closure.