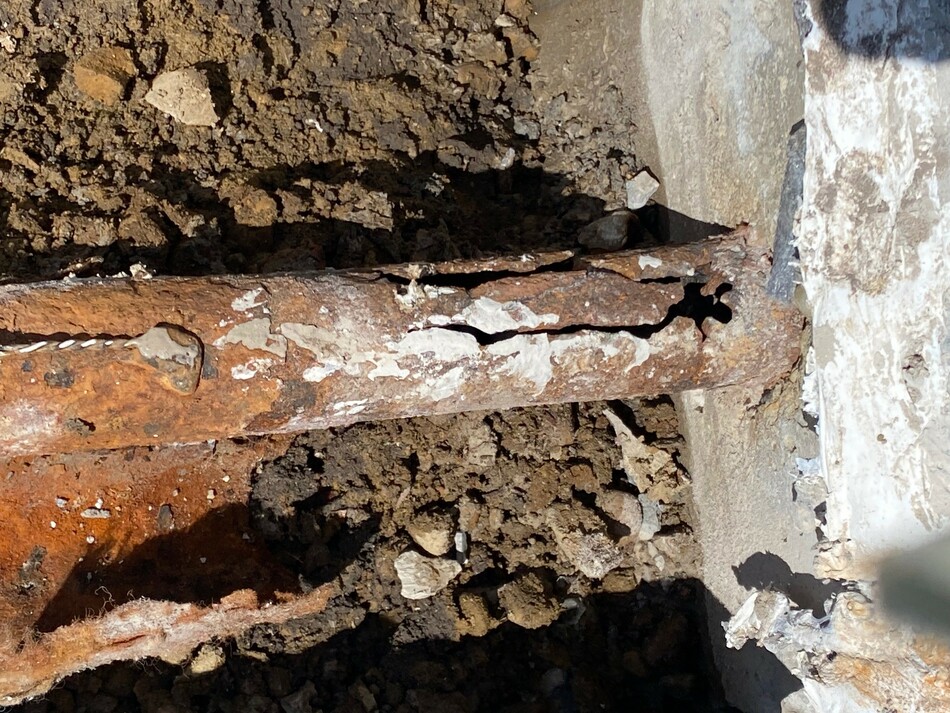 Over the weekend, crews were notified of a significant leak on the north side of the Rotary Fountain.
Concrete was cut on Monday to discover very corroded pipes underneath. These pipes (3 of 12) were replaced with anticipation that other areas may leak, however if the leak was relatively insignificant the Town would proceed with opening the Fountain for use and address the work in the fall.
While conducting the pressure test on the repaired pipe system, additional leaks were identified. The new piping held pressure and did not leak, however, with the increased pressure in the system during the test, four other leak points have been identified.  Crews will be cutting into the concrete to replace these four sections of piping and will pressure test again before pouring concrete.
When the Fountain was built in 1992, it was intended as to be a water feature and wading pool. This Fountain was enjoyed as a wading pool with untreated water for many years before AHS updated the guidelines effective 2015. Since then, the Town has had to chemically treat the water and add filtration systems to meet the provincial requirements. The effect of this treatment has advanced the corrosion of the almost 30-year-old piping systems.

Work will commence this week and there are several steps involved to get to a point of reopening. This includes three days to excavate the additional areas and make repairs, with another pressure test to follow. Once the pressure test is successful, it will take about three days to pour concrete and let it cure. When the concrete is cured, the Fountain will need to run continuously for 6 hours in order for a water sample to be taken. The test takes 48 hours to obtain results, and AHS will have to provide a final on-site inspection once this work is complete.
The Town of Drumheller is committed to getting the Rotary Fountain up and running as soon as possible and will continue to provide updates as they become available.