Go back to news listing
Repairs to Highway 10 Water Main Break Will Cause Impacts to Water and Highway Users
Posted on Nov. 29 2022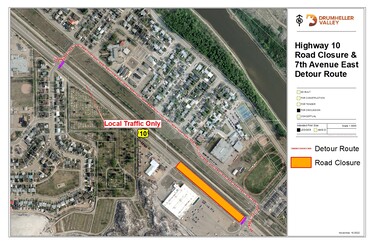 On November 14, 2022, a leak was identified on a primary water transmission line located North of Walmart within the right of way of Highway 10. As such, the Town has been working closely with Knibb Development, Associated Engineering and Alberta Transportation to ensure that proper repair measures have been selected to avoid water distribution interruptions to the Town or specific communities. 
A bypass is being installed prior to work being carried out to ensure that water transmission is maintained. A detour route of Highway 10 onto 7 Ave, between 11 Street E and 19 Street E, will be in place for the duration of the work. It is asked that detour signs are obeyed and that those travelling on this route are mindful of the school zone running adjacent to the road.  
"This line is critical infrastructure for the Town," says Dave Brett, Director of Infrastructure Services for the Town of Drumheller, "and a prolonged break due to location and valving could result in a significant disruption to water distribution. We are working closely with Alberta Environment to ensure that the repairs are up to standard while providing a clean and protected water supply." 
Water system repairs will begin on Monday, December 5, after the bypass construction is complete. The required restoration work on the transmission line is anticipated to take at least two weeks 
The Town of Drumheller asks the public to practice water conservation as best they can during this period to protect the bypass of excessive flows. The patience and cooperation of travellers and residents throughout this time is greatly appreciated.