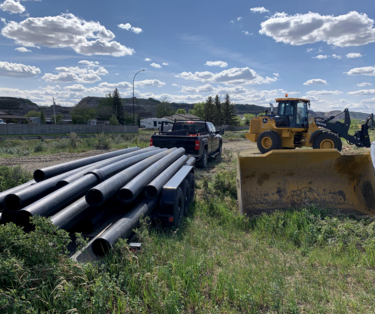 Work on the Nacmine Force Main has begun. The lay down site is visible along Highway 575 from Newcastle to Nacmine, and the teams are working hard to ensure the process is as quick as possible.  
This work will commence all the way down to Hunter Drive, which will see activity in the future, where the lift station is located.  
The Nacmine Force Main work is expected to take approximately 6 weeks. This grant-funded project is anticipated to provide at least 50 years out of the infrastructure investment.  
The benefits of this work should significantly reduce the smell in the South Newcastle area, while also positively impacting the wastewater management system in Drumheller. 
We ask that residents and visitors please obey signage and use caution in the area.