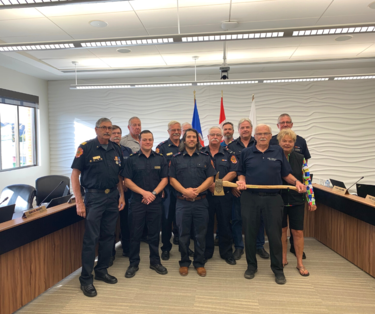 Happy retirement, Bruce! 
At the Council Meeting on October 3, 2022, the Town of Drumheller Council and members of the Drumheller Fire Department gathered to celebrate Bruce Wade's incredible 43 years of dedicated service with the organization.  
Bruce joined the Drumheller Fire Department in 1979. Over the years, he has been a Firefighter, a Captain, a Deputy Chief and, since 2014, the Fire Chief. Since being with the Drumheller Fire Department, Bruce worked with a number of volunteer firefighters to help keep the Drumheller Valley safe.  
An axe is a commemorative symbol of the trade. There are various types of fire axes that are used commonly in firefighting practice, all of which can be used to smash windows or doors to gain entry into spaces or to chop holes in a roof for ventilation. This significant piece of equipment is commemorative of the fire service trade, and was given to Bruce to honour his time and dedication to the safety of the citizens of the Drumheller Valley and surrounding areas. 
This included responding to 4,929 calls!  
Thank you, Bruce, for your dedication and hard work. The Drumheller Valley thanks you for your service, and would like to wish you all the best. 
Please join us in celebrating and congratulating Bruce on his retirement!