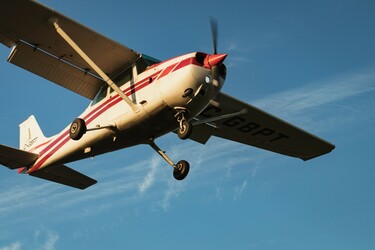 The Drumheller Valley is excited to welcome the Give Hope Wings Air Tour! The Give Hope Wings Air Tour is a flying expedition from British Columbia to Manitoba to raise awareness and funding for Hope Air – Canada's national charity providing flights and accommodations for those in need of support when travelling for vital medical care far from home.  
This is the fourth annual Give Hope Wings expedition, and its first stop in the Drumheller Valley! The expedition flew out of Boundary Bay, British Columbia on August 23, with its final stop being Churchill, Manitoba on September 3. Along the way, the pilots will be stopping in multiple communities, including: Kelowna, Nelson, Red Deer, Thompson and, of course,  Drumheller.  
Along the course of the pilots' journey, they will have the opportunity to stop in each of these locations to meet with patients, donors, media and community organizations. To commemorate and acknowledge this air tour, there will be a fundraising breakfast for the pilots and any members of the public that would like to attend on August 24, 2021, at 9:00am at the Plaza. 
To date, the Give Hope Wings Air Tour has raised approximately $900,000 and has provided 3,600 flights to patients in need of vital medical care.  
We are excited to welcome the Give Hope Wings Air Tour to the Drumheller Municipal Airport on August 23 - 25, 2021!
This event is weather and smoke permitting, so be sure to remain updated by following the Town of Drumheller and Fly Drumheller social media pages!
For more information about Hope Air and the Give Hope Wings Tour, you can visit https://hopeair.ca/givehopewings