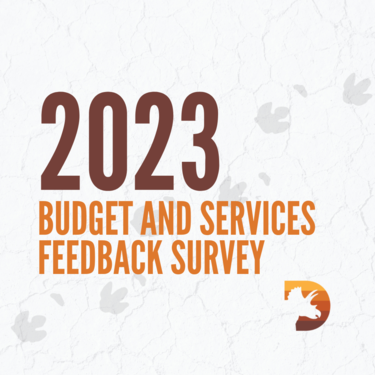 From now until September 5, 2022, Town of Drumheller taxpayers are encouraged to complete a comprehensive survey to provide feedback regarding the 2023 Operational Budget, top three priorities for Drumheller and service-level satisfaction. Similar to 2021 and 2022 surveys, this engagement is powered by an online tool called Ethelo.  
The Town is making strides to have both the Capital and Operational Budget approved and published in late December 2022 or early January 2023, as opposed to previous years when the approval process took place as late as April.   
CAO Darryl Drohomerski explains, "As we look ahead to 2023 and beyond, the primary focus will remain on safely delivering the following core municipal services: water and sewer, roads and sidewalks, fire and police. However, Drumheller offers many programs and services that make the Valley an amazing place to live."  
The Town of Drumheller is seeking feedback for the following: 
Importance of service

 

Current satisfaction rate of service

 

If the taxpayer believes the financial contributions of the service should be increased, decreased, or kept the same

 

What the taxpayer believes the budgetary priorities should be

 
"Similar to any homeowner or business, the Town must decide how best to invest money today to ensure it is prepared for the future." Drohomerski continues. "That's why we are interested in what programs and services are most important to our taxpayers, on top of the desired spending areas. Additionally, we want to capture how residents feel about the Town's services, programs and initiatives. This report card will give us a benchmark for years to come as we evaluate the feedback annually."  
The municipality provides programs and services that contribute to the overall quality of life in Drumheller, including outdoor and indoor recreation, curbside waste collection, bylaw and animal services, economic development, municipal communications and social programming for adults, youth and families among many other services and programs that are offered through the Valley.   
"All of these initiatives contribute to the Valley's vibrancy, enhancing the desirability for new residents and increasing the 'pride of place' for its residents," shares Mayor Colberg. "However, what's important to some, is less so to others. The intention of the survey is to capture feedback and take it into consideration for the 2023 Operation Budget.   
The results of the survey will be compiled and presented on September 19, 2022, at the Regular Council Meeting. At this point, feedback, as directed by Council, will be implemented in the 2023 proposed budget.  
To take the survey, please visit drumheller2023.ethelo.net. Paper copies can be made available upon request; however, online participation is encouraged. Please contact communications@drumheller.ca or call 403-823-1338 for more information.