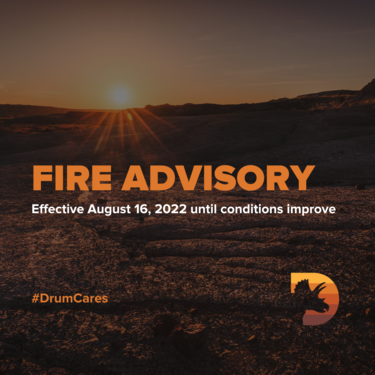 Until further notice, a fire advisory is now in effect for the Town of Drumheller as of 12:00pm on Tuesday August 16, 2022.
Due to the current hot weather and existing dry conditions a heightened fire risk exists. This advisory is in pursuit of the Town of Drumheller's Fire Bylaw 04.07.
Please note the following under this advisory:
All existing fire permits are suspended
No new fire permits will be issued until conditions improve
Prohibited
Any burning without a valid fire permit
Consumer fireworks
Permitted
Campfires and fire pits at commercial campgrounds
Backyard residential firepits compliant with the Bylaw
Natural gas and propane fire pits that are CSA approved or ULC certified
Natural gas, propane, electric stoves, barbecues, and smokers that are CSA approved or ULC certified.
Solid Fueled Barbeque appliances, where the primary source of fuel consists of charcoal, briquettes, or wood
Catalytic or infrared style heaters that are CSA approved or ULC certified.
The Town of Drumheller is continually monitoring weather and ground conditions. Should conditions remain unchanged or deteriorate, it may be necessary to enact a fire ban for public safety.
To review and subscribe to fire advisories and bans, please visit www.albertafirebans.ca/