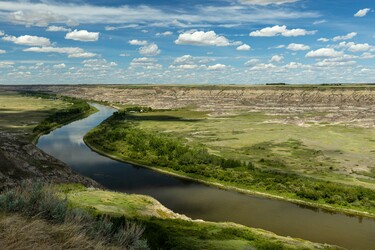 The Town of Drumheller is actively monitoring the current and upcoming weather forecast. With an anticipated 100-150mm of rainfall expected in certain areas, our teams are working diligently with the Province of Alberta, the staff at Dickson Dam and local authorities to ensure we have the most accurate information readily available.
A cold low weather system is expected to bring widespread rainfall activity to southern and central Alberta from Monday, June 13th through to Wednesday, June 15th.  Successive weather models have been variable with respect to location and amounts are still subject to change.
Currently, forecast amounts by basin, based on the latest guidance from Environment and Climate Change Canada anticipated rainfall in the Red Deer River Basin to be approximately 100-150mm (10-15cm or 4-6 inches) of rainfall with the largest amounts in the upper Red Deer and Little Red Deer basins.
Please be aware that the Dickson Dam has already increased the flow rate to 83 cubic metres per second (m3/s), from 26 m3/s of water from the Glennifer Reservoir downstream to increase storage for the anticipated rainfall over the next few days. It is expected that the released flow rate will increase over the next few days. This will increase the Red Deer River's water levels and flow rate in Drumheller.
At this time, the Province of Alberta has indicated the Red Deer River at Drumheller as a "High Streamflow Advisory" and is subject to change as the storm endures. Advisories, Forecaster's comments, river flows and levels can be found on the Environment and Parks River Basins webpage at https://rivers.alberta.ca or the AB Rivers mobile app. You can also sign up for email and text notifications to be informed of any change of status.
The Town of Drumheller attended a Provincial Operations Centre (POC) earlier today and is now reviewing emergency management plans, operational readiness and inventories of flood management equipment. Crews started filling sandbags at noon today in preparation for a possible high-water event.
As the situation evolves and more information is made available, the Town will be posting updates on https://www.drumheller.ca/your-municipality/news.
For more information on how to get you, your family and your home flood ready, please visit https://floodreadiness.drumheller.ca/be-prepared/emergency-preparedness-guide
Definitions as outlined by the Government of Alberta: 
High Streamflow Advisory: stream levels are rising or expected to rise rapidly and no major flooding is expected. Minor flooding in low-lying areas is possible. Anyone situated close to the streams affected is advised to be cautious of the rising levels. 
Flood Watch: stream levels are rising and will approach or may exceed bankfull. Flooding of areas adjacent to these streams may occur. Anyone situated close to the river is advised to take appropriate precautionary measures.
Flood Warning: rising stream levels will result in flooding of areas adjacent to the streams affected. Anyone situated close to the river should take appropriate measures to avoid flood damage.