Go back to news listing
The Town of Drumheller Secures Additional Funding for the Downtown Triangle Plaza Development
Posted on Mar. 31 2022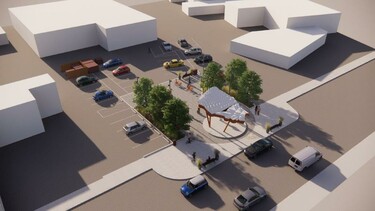 The Town of Drumheller has secured additional funding for the Downtown Triangle Plaza through the Canada Community Revitalization Fund (CCRF)[i]. The Town of Drumheller has received $408,000 in federal funding to go toward the Downtown Plaza, a staple project in the Downtown Area Revitalization Plan (DARP).
"We are so grateful to receive this funding. The previous Council worked hard to begin the journey of strengthening our downtown and our current Council will continue toward the finish line of the Downtown Area Revitalization Plan," Mayor Heather Colberg shares. "This funding will help our community thrive as we reinvent the outdoor spaces and continue to fortify our downtown area."
"Through the Canada Community Revitalization Fund, our government is proud to be investing in downtown cores and main streets in communities across our country," said the Honourable Daniel Vandal, Minister for PrairiesCan. "Today's investment to create an outdoor plaza in the Town of Drumheller will help support community events and activities that will bring residents and visitors together, generate economic growth and maintain a high quality of life."
"Downtown cores and accessible public spaces are vital to build resilient communities across Alberta," said the Honourable Randy Boissonnault, Minister of Tourism and Associate Minister of Finance. "Thanks to today's investment, local residents can grow closer as a community and host exciting new events and activities which attract tourists and stimulate the local economy."
Triangle Plaza is a new multi-use public space located in the heart of downtown Drumheller. Its goal is simple. This flexible space will allow year-round day-to-day use for a variety of events and activities. This central attraction aims to draw Drumheller's residents to downtown Drumheller to reconnect with friends, families and enjoy the cultural spirit of the Valley.
"Members of the community can stop by this space to sit, enjoy their lunch, relax with a cup of coffee. Our local markets and artists can use this space for their needs as well," says Reg Johnston, the Manager of Economic Development for the Town of Drumheller. "Another focal point is the Plaza is within short reach of many retailers, which will help local businesses attract tourists during the peak season to shop in their stores, dine in their restaurants and further enjoy their experience in Drumheller."
Comments
This triangle plaza doesn't look very large compared to the space it is now. Why move the plaza, what is the exact location for this project and who owned this property before the purchase?
Town of Drumheller Communications
Thank you for your comments. The new plaza space is similar in size to the current space but is also adaptable to make it grow as needed, unlike the current location. The space for the new plaza is and has been owned by the town for at least 15 years, which is located on the east side of 1st St West between Railway Avenue and 3rd Avenue W. The land where the plaza currently sits was always considered a temporary space for the plaza as it has great commercial/residential development appeal. Have a great day!