Go back to news listing
The Town of Drumheller Receives Additional Funding from the Province for the Airport Rehabilitation Project
Posted on Aug. 9 2022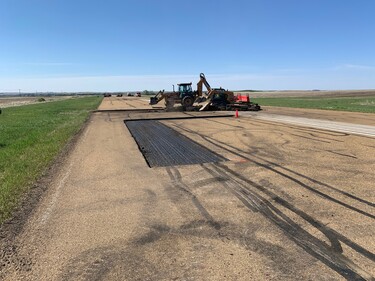 The Town of Drumheller received a letter from Alberta Transportation, dated July 22, 2022, informing the Town of Drumheller they have received additional funding through the Strategic Transportation Infrastructure Program (STIP).
"We are very grateful for this support," states Mayor Heather Colberg. "We appreciate the continued collaboration with our Provincial leaders and thank them for the positive impact on our infrastructure projects this funding will provide. Thank you to those involved."
The Town has obtained an additional $152,051 that will go toward the completion of the airport rehabilitation project, specifically the installation of new runway lighting. The original amount awarded in August 2021 was $1.1M for the project's initial estimated cost of approximately $1.5M. The STIP funding levels are split by 75% of the provincial contribution for eligible project costs, and 25% of the municipal contribution for eligible project costs.
"Inflationary costs have certainly affected this project's scope," states Dave Brett, Director of Infrastructure. "We had hoped the original funding through the province would allow us to complete the runway and lighting rehabilitation. Unfortunately, we were only able to allocate the funds to the paving portion of the project as the bids for the lighting came in well above the original cost estimate."
Council and Administration spoke with the Government of Alberta to request additional funding to assist with the infrastructure replacement earlier this year. Given the importance of the project, the request was well received.
In the letter, the Minister of Transportation, Prasad Panda, stated "I acknowledge the challenges you [the Town] have faced regarding pandemic-related issues, such as supply chain disruptions and cost escalations, which have affected your ability to complete this project within the approved budget. I also appreciate your attempts at mitigating these ongoing challenges."
The work on the lighting is dependent on the availability of certain components.