Go back to news listing
Rails to Trails Project Continues with Newly Completed Section of Trail
Posted on Oct. 19 2023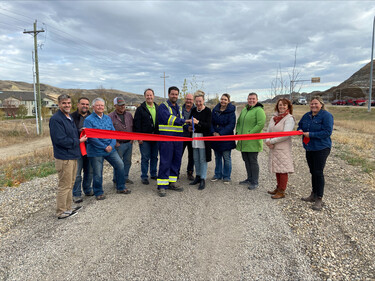 The Town of Drumheller is pleased to announce that a new section of the Rails to Trails Project has been completed and is available for use. This nearly six-kilometer stretch of trail, comprised of durable, user-friendly crushed, compacted concrete, begins at 19 Street East and ends at Roper Road in Rosedale. Conversion of this section of trail took place throughout the spring and summer months of 2023.  
"We are so happy to see this part of the trail complete. Watching cyclists on the highway has always been a safety concern, and now there is a safe place for them to ride," says Mayor Heather Colberg. "We are so grateful to everyone who has contributed support to the trail thus far, and we look forward to continuous collaboration as we move toward completing this project." 
In April 2022, it was announced that the Town of Drumheller was successful in securing a lease from CN for the right-of-way to convert the rail beds in Newcastle, Midland, Rosedale and Wayne into active transportation trails. In 2022, the first area of the Rails to Trails Project was completed, this being the connection from Downtown Drumheller to 19 Street East. This new section now provides much-needed pedestrian access and has seen a great amount of use in its time being available to the public.  
The Rails to Trail pathway system, when complete, will connect the Midland Provincial Park to Wayne and the Hoo Doos. This will more than double the distance of pathway available for active transportation (walking/jogging/running, biking, skiing, snowshoeing) in the Drumheller Valley. 
On October 20, 2023, a ribbon-cutting ceremony took place at the trailhead of the newly completed section of trail. The ceremony was attended by the Mayor, members of Council, Town CAO Darryl Drohomerski and members of the Rails to Trails Task Force.  
The Town of Drumheller would like to extend gratitude to all parties involved in bringing this transformational community legacy project forward, including the hard work of the construction teams, Gallagher Trucking for their in-kind support on completing this section, sponsors and donors and the Rails to Trails Task Force for their hard work. 
"It is great to see residents and tourists using the path system on a regular basis," comments Councilor Crystal Sereda. "We want to extend our thanks to the Rails to Trails Task Force for all of their dedication and for getting this project off the ground in such a short amount of time." 
To learn more about the Rails to Trails Project, and to provide support into building this legacy, please click here.