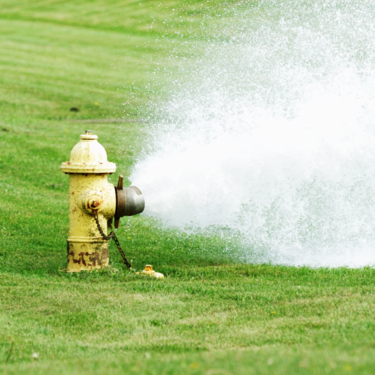 Hydrant flushing will begin in the Valley on June 14, 2021. The project will start with one crew flushing, with two crews throughout most of the period. 
Hydrant flushing is important because it ensures that the hydrant is functional in preparation for an accident or incident. It also gives our Public Works team a chance to examine the hydrant to make sure that all the pieces are intact and that the pressure is acceptable. Lastly, it ensures that the water around Town is meeting the highest standard set forth so that health and safety is at the forefront - this operation flushes out sediment that has accumulated in the pipes over the last year to avoid water issues!
What can you expect during this time? 
Colour in your water is absolutely possible. If this happens, don't panic! Flush your own taps by allowing the water in your home flow through your taps until they run clear. 
Odour should not occur, though chlorine smell is normal during this process. Simply flush your pipes.
If you've flushed your pipes and are still experiencing issues, please visit our Report a Problem page to submit a report.  
June 14, 2021

Water Treatment Plant to 11 Street East

June 15-18, 2021

11 Street East to Greentree
11 Street East to Willow Point

June 21-25, 2021

Hwy 9 to Centre Street SE
10 Street East - 5 Street East

June 28-July 2, 2021

Bankview neighbourhood to the Industrial Area
5 Street East to 900 Block of Newcastle Trail

July 5-9, 2021

900 Block of Newcastle Trail to 12 Street West Newcastle
Rosedale to East Coulee

July 12-16, 2021

North Newcastle to South Newcastle
Rosedale to East Coulee 

July 19-23, 2021

South Newcastle to Nacmine
Rosedale to East Coulee

July 26-30, 2021

9 Street NW to North Drumheller

August 3-6, 2021
Anticipated 2021 Hydrant Flushing schedule, subject to change.