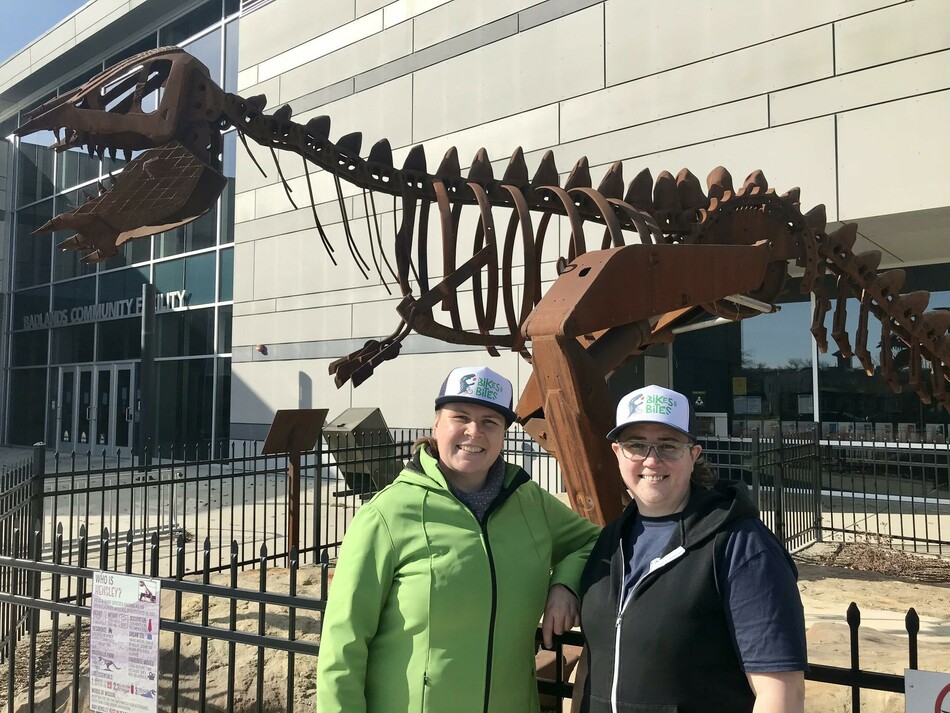 Bikes and Bites is another new business to the Valley!
Located inside the Badlands Community Facility, Bikes and Bites offers sandwich-based picnics and e-bike rentals to adventure around the Valley. Their menu includes seven sandwiches, a charcuterie box, five sides plus snacks and drinks. They also offer vegan and vegetarian choices, as well as gluten-free options for all of their sandwiches! 
Bikes and Bites is dedicated to serving the community great food year-round, while supporting tourism growth in the Drumheller Valley. Owners Natalie Lum and Lana Phillips are both very excited to explore the Valley and meet new people!
"Our inspiration for Bikes and Bites was inspired by a visit to Drumheller in the summer of 2020," begins co-owner Lana Phillips. "We were impressed by Drumheller, its people and the 18km of pathway that spans the scenic valley. The enthusiasm of the community and business owners showed us there is opportunity here."
Natalie continues "Our confidence in Drumheller grew as we noticed the sidewalk café at Black Mountain Roasters, the Pride Flag crosswalk by Town Hall, outreach happening on the Downtown Redevelopment Plan and the work of Travel Drumheller. We choose Drumheller because it is enabling us to build a business around our passions!"
So, what's an e-bike? 
E-bikes are bicycles that are battery powered to assist users with pedalling. There's a motor that is engaged that gives you a boost that makes zooming hills easy-peasy.
Bikes and Bites offers step-through e-bikes for rental periods of 2 hours, 4 hours or for the whole day! Check out their website for rental information.
Hours of Operation (visit website for extended summer hours, including holiday Mondays)
Hours of Operation (Summer)
Monday – Closed (open August 2 and September 6)
Tuesday – Thursday 10:0am – 7:00pm
Friday – Sunday 8:00am – 7:00pm
Hours of Operation
Monday – Closed
Tuesday – Thursday 10:0am – 5:00pm
Friday – Sunday 10:00am – 7:00pm
Follow Bikes & Bites!
Website: bikesandbites.ca
Instagram: @bikesandbitesAB
Facebook:@bikesandbitesAB
Email: info@bikesandbites.ca
Phone: 403-436-4646 (GoGo)