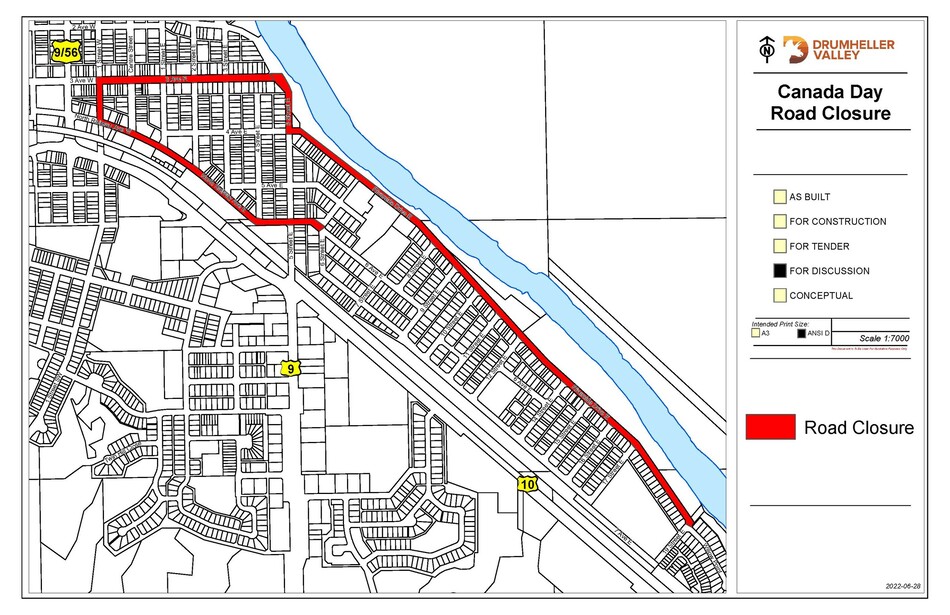 There will be temporary road closures due to the Canada Day Parade from 9:00am - 12:30pm on Friday, July 1, 2022. 
The following has been outlined in the approval letter to the Canada Day Parade Committee
• The following parade route road closures as per the above map:

Riverside Drive East from 19 Street E to 4 Avenue East
5 Street East from 4 Avenue East to 3 Avenue East
3 Avenue East from 5 Street East to 1 Street West
1 Street West from 3 Avenue East to Railway Avenue West
Railway Avenue West from 1 Street West to 6 Avenue East

Traffic controller stationed at the intersection of 6 Avenue East and 5 Street as the parade finishes.
Notification to Alberta Transportation for the road closure is provided prior to June 29, 2022.
Adherence to the Town of Drumheller Community Standards Bylaw is to be observed at all times.
Proper supervision and/or security must be provided on the site at all times
Barricades are to be placed prior to the commencement of the event and to be removed immediately following the event.
The road closure must conform to any Provincial, Federal and/or Municipal Regulations and/or guidelines that may apply.
All areas used for the event are to be cleared and cleaned within a reasonable time period.
A minimum public liability insurance policy of $2,000,000.00 and indemnify to hold harmless the Town of Drumheller for any claim related to the event (Copy of policy must be submitted to the Town prior to the event).
Due to Covid - 19, Alberta Health Services and the Town of Drumheller have additional health and safety requirements.
All requirements from Fire/RCMP/AHS are met.
The Town of Drumheller thanks the Canada Day Parade Committee for their efforts in providing a safe, fun and enjoyable parade for Drumheller residents and visitors. Happy Canada Day!