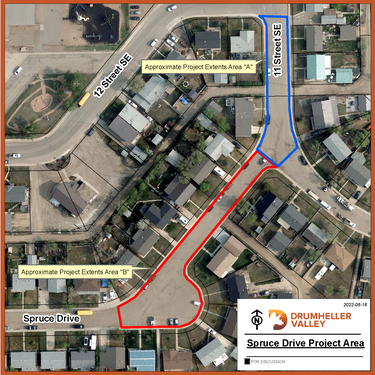 The annual street improvement plan (SIP) is underway in the Drumheller Valley, including a large project on Spruce Drive. The work is being completed by Brooks Asphalt & Aggregate Ltd., which was awarded the SIP tender earlier this year.
Spruce Drive is divided into Area A and Area B. Area B will see a complete road reconstruction, while Area A will see a Mill & Overlay.
Spruce Drive
Full Road Closure (12 Spruce Drive - 914 11 St SE), August 24 - September 9, reopening for the long weekend then closing again starting September 2
Road Coring (Area B), September 24 - 27
Area B Base Prep and First Lift of Asphalt, August 29 - 30
Area A Milling, September 6
Area A & B Paving, September 6 - 9
Miscellaneous Concrete Repairs (sidewalks, curbs and gutters), August 16 - 28
Remaining Concrete Repairs
August 17, approximately 4 - 5 weeks
CN Rails to Trails
August 29, approximately 3 - 4 weeks
Questions or concerns regarding the construction process can be forwarded to Troy Smith of Brooks Asphalt & Aggregate at 403-633-7894.
Supporting documentation
The Approved 2022 Street Improvement Program Scaled Back due to Inflationary Costs