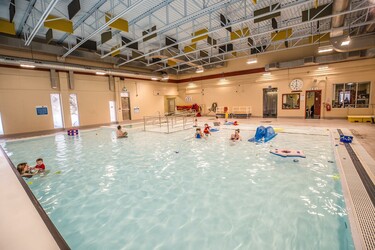 Every September, the indoor pool area at the Drumheller Aquaplex undergoes annual maintenance that requires a full shutdown. This year, the closure will be from September 6 to October 2, 2022. The outdoor pool will remain open until September 18 to accommodate aquatic programming.
"Annual maintenance shutdowns allow us to deep clean the entire facility and perform necessary upgrades and repair work to our amenities," shares the Drumheller Aquaplex's Aquatic Supervisor, Andrea Leavitt.  "Some of the regular work we do each year is drain and scrub the indoor pool basin, deep scrub the pool decks and clean the filter to ensure continued proper filtration of the pool water. There are a lot of moving parts during our shutdown period; the Infrastructure Department, as well as our aquatics staff, are heavily involved."
As part of the outage, work activities that require the indoor pool to be drained are also scheduled. This includes the replacement of a failed isolation valve, repair of a damaged filter and removal of the circulation pump for the required maintenance program.
Additionally, Administration has organized several highly disruptive projects during this closure to maximize improvements while the facility is unavailable to its users. Some of the projects include work on the Aquaplex retaining wall, relocating the northwest emergency exit door, and replacing the flooring throughout all change rooms, lobby and office areas.
Aquaplex-only memberships will be extended for the entire duration that access to both pool areas is unavailable. Multi-facility memberships will have one-third of the closure time added. Questions regarding memberships can be forwarded to the Drumheller Aquaplex, 403-823-1322 or aquaplex@drumheller.ca.