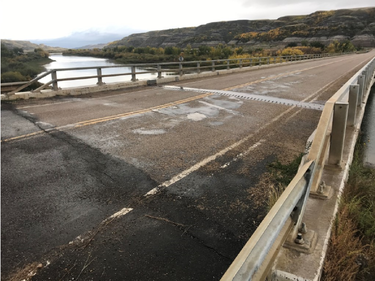 Project Overview
Beginning late June 2021, Alberta Transportation will start repair work on the Red Deer River Bridge on Highway 10, in East Coulee, AB. The 170 m long structure, which was installed in 1981 requires repairs to extend its service life. On site construction will require single lane, alternating traffic and occasional road closures (10 minutes or less).
Project Details
Construction is expected to begin June 21, 2021 and should be completed by October 31, 2021, weather permitting. Work on site is anticipated to take place between the hours of approximately 7 am and 7 pm, daily. Work includes deck joint replacement, resetting abutment bearings, substructure drainage system upgrades, slope protection repairs, guardrail installation and other related road work.
Traffic Impacts
As with any construction project, travellers will experience speed reductions and delays. The posted speed limit within the construction zone will be 30 km/hr. The bridge will have a single restricted lane width of 3.7 m and wide loads will not be permitted. To ensure safety, short duration highway closures will be required. Traffic stops will be limited to10 minutes per 30-minute period. During these highway closures, travellers are asked for their patience and to remain in their vehicles. Information signage will be posted on site at least 14 days in advance work.

Please watch for and obey all construction zone signage. Signage will be updated throughout construction. For up-to-date information on this project, please call 5-1-1 toll free or visit 511.alberta.ca
For additional information on the project, please contact:

Donald Saunders, P. Eng., Bridge Manager
Alberta Transportation
Phone: 403-340-5579
Email: donald.saunders@gov.ab.ca