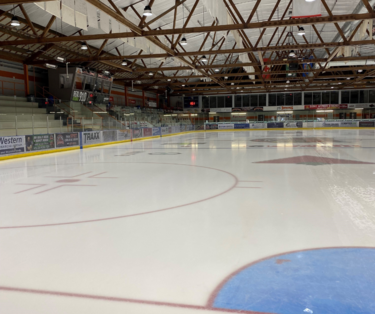 The Town of Drumheller has shut off its reliance on hot water to maintain its NHL-sized ice surface at the Drumheller Memorial Arena. Instead of hot water floods, a mechanical rink de-aerator has been installed, which is letting the operations team flood the ice with tap-temperature cold water. The REALice system will reduce energy costs and lower CO2 emissions, and still allows the ice technicians to provide a high-quality ice product for our user groups.
The REALice system acts like hot water, but without the same expenses. The 3D-printed wall unit, installed near the Arena's filling station for its Zamboni ice resurfacing machine, requires no maintenance and has an expected life of 25 years. The system also comes with a handheld nozzle for building the ice from scratch at the beginning of the season, and for any on-ice spot repairs.
The REALice was installed midseason due to additional work being performed and completed at the arena. The floodwater for all of Drumheller's ice surfaces used to be heated to 160 °F; now the floodwater temperature is down to 55 °F. Those lower temperatures are having a significant impact on both natural gas and electricity consumption.
"We're always looking for ways to reduce the operational costs at the Arena," says Facilities Manager Reg Bennett. "Eliminating hot water floods will reduce our natural gas consumption, as we are no longer heating hundreds of gallons of floodwater each day. We're already running the ice warmer now because of this. This will mean less run time on the compressors and electric savings. So far, we're impressed by what we're seeing on the ice."
The Town of Drumheller is benefitting from a grant through the Municipal Climate Change Action Centre's Recreation Energy Conservation (REC) program, covering 75% of the costs. MCCAC has benefitted the Town in the past, including a lighting retrofit for the Arena in 2017, where the MCCAC covered around 40% of the costs to put LED lighting in place.
Projected natural gas savings for the Town due to this installation are 6,655 m3, with electricity savings of 68,279 kWh annually. With annual projected energy cost savings of $8,538, the new system will have a return investment of four years. The reduced consumption will also contribute to 62.27 tCO2 less in annual greenhouse gas emissions for the Town, as well as just under $11,000 in avoided Carbon Taxes over the next 10 years.